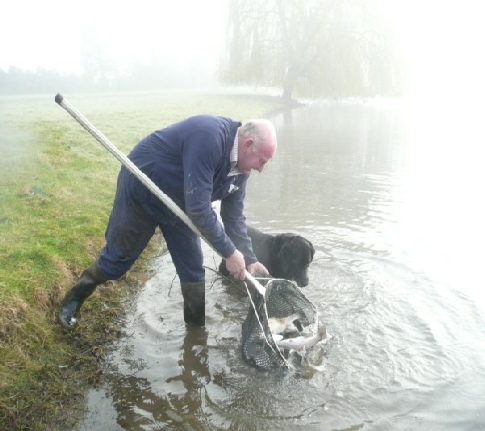 Trout Fishing Update – End April 2021
Welcome members old and new to the 2021 season at Roxton Park!
It was great to open the season on 1st April as planned, albeit with Covid restrictions still in place. The only uncooperative element has been the weather, with cold East to North Easterly winds prevailing throughout the month, accompanied by some snow flurries early in the month, but minimal rainfall. There were frosts most nights right up to the end of the month. On a couple of warmer days there were some decent rises to buzzers, but generally hatches/rises have been very sporadic with the surface layers of the water remaining very cool.
During the closed season, the Willows on the Lodge bank were pollarded as they had spread far too much and new shoots are already coming on strongly. A new Rod Holder was installed outside the Lodge and most importantly a new Jetty was installed. As previously communicated there were a few teething problems with the initial installation, but these are behind us now and it is fully fit for purpose. Rumours that we are building an artificial isthmus across the lake have been grossly exaggerated. We have had two weed-cuts already this year, largely to remove some quite thick residual growth from last year and the usual non-toxic blue dye has been applied to deter both weed and algae growth.
Despite the cold weather we have had a record number of fishing efforts in April at 241. The Browns have shown very well averaging over 2lbs, with 5 and 8lb fish being caught and released, plus an estimated double figure monster being lost. A good number of the larger Rainbows have also been caught up to 6lbs.
The most successful flies have been the standby early season patterns often featuring black and green, such as Montanas, Pitsford Peas, Vivas and Damsels. Black, red, grey and green buzzer pupae have also proved very useful, particularly during hatches. Traditional Pheasant tail and Hare's ear nymphs together with Diawl Bachs have also taken good fish. Not surprisingly, very few fish have been taken on Dry's so far but G&H Sedge and Yellow Bellied Humpy have been the first to score. Some Alders and Hawthorn flies have been spotted around the lake and even a Great Red Sedge in the crepuscular light towards nightfall.
Some important housekeeping points:
 Several members have forgotten that the Fishery is closed each Tuesday. Please adhere strictly to this rule and avoid the disappointment of being turned away.
 We are lucky to have plenty of room at Roxton Park. Please do not encroach on the space of other members whether on the bank or in a boat (unless you have agreed to do so). As a rough guide, if you both cast towards each other you should not reach the other Angler's fly.
 A reminder regarding Catch and Release:
o It is recommended that barbs are squeezed down or that barbless hooks are used.
o Fish should only be released if they can be easily unhooked and released unharmed, ideally without removing them from the water.
o If you are unsure whether the fish is OK to return, please give it a chance to recover in the net. If in doubt do not release it.
 Please follow our Covid 19 protocols which are in place for the safety of all members and guests.
On the wildlife front, Martins and Swallows are with us again although in small numbers so far, and Common Terns, Chiff-Chaffs and Willow Warblers have also arrived. No Cuckoo was seen or heard in April, but I am delighted to say that was put right on 1st May. Little Egrets are now quite common around the lake and occasionally a Great White Egret (Heron Size) is present. Great Crested Grebe's are nesting again; let's hope they raise a brood this year.
A couple of foxes are about and as always there is evidence of Badgers all around the lake. The most exciting incident so far has been a large female Grass Snake seen swimming in the lake. Not only swimming but trying to get into a boat! Not good weather for butterflies, but Brimstones, Orange Tips, Small Tortoiseshells, Peacocks, Red Admirals and Holly Blues have all been seen, although in very small numbers. It is worth keeping an eye out as you travel down to the lake as there are 2 or 3 Hares and several Sky Larks to be seen most days.
That reminds me. I was fishing the other day when quite by chance I met an old school friend Anna Phylactic. It was quite a shock I can tell you! Anyway, Anna reminded me of the time Julius Caesar was addressing a crowd in the Coliseum. "Friends, Romans, Countrymen, I have returned from my campaign in France having killed 50,000 Gauls!" The crowd rises to its feet cheering "Hail Mighty Caesar". At this point Brutus leaps to his feet and yells "Caesar lies, I have discovered that he only killed 25,000 Gauls!" Caesar silences the crowd and replies "Yes but remember away Gauls count double in Europe!"
That's all folks!
I look forward to seeing you on the bank – let's hope it warms up soon!
Tight lines,
Lucius Pike
Trout Fishing Update – End May 2021
May followed April's lead and continued to be cold. The main difference being the lack of rain in April was made up for by rain virtually every day for most of May. Anyone lucky enough to find a decent day was greeted with good hatches that tended to be mid-morning to mid-afternoon. Mayflies (Vulgata) were hatching from mid-month onwards and Spinners could be seen dancing in large numbers along the riverbank side. Alders, Sedges of various sizes and colours, Hawthorns, Pond Olives and Buzzers have all been present in good numbers. Small yellow Daddies have hatched around the lake with the breeze carrying many onto the lake to the Trout's obvious delight. Damsels were hatching towards the end of the month, but as usual took refuge in the lakeside grass for a while, before taking on their full turquoise hue and moving over the water.
A wide variety of flies have been successful sub-surface including Pitsford Pea (thanks to Paul Shepherd for the free samples), Montanas, Buzzers, Green/Olive Nymphs, Damsels and Black Spiders. Dries have been very widely used as normal and the main killing patterns have been Hawthorns, Humpies, Sedges, Grey Wulffs, Yellow Daddies and Black Gnats.
It is great to report that 28 Rainbows in the 4-6lb class have been taken during the month, with some fish estimated as even bigger, having been caught and released. The Browns have been showing well at an average of above 2lb's, with some in excess of 3lbs. Congratulations to Vaughan Southgate who took a magnificent Brown of 6lbs 4oz's mid-month on a Dry.
Weed cutting continues as necessary and although this is done on a Tuesday where possible, on occasions it may be necessary to cut on another day. The debris from the pollarding of the Willows has been burnt and the grass around the lake mown and strimmed as appropriate.
Turning to wildlife; Swifts always late to arrive are with us now and Cuckoos are heard and seen on a daily basis. Reed Warblers and Black Caps can be heard and seen around the lake together with the ubiquitous Chiff-Chaffs and Willow Warblers. There have been a couple of good broods of Mallards that have thankfully escaped predation and a pair Red Crested Pochards and Grey Wagtails were brief but colourful visitors. Bullfinches, one of our most secretive birds have been seen at the entrance to the lake, with plenty of Linnets, Goldfinches and Yellow Hammers in the hedges going down to the lake. A Barn Owl has also been seen which is always a beautiful yet haunting site. Jackdaw chicks have hatched in the Loge roof space, as I am sure you have all heard!
Roe Deer, Muntjac and Hares are frequently seen about the place, as is the occasional Fox. There were very few Bats sighted in May, but I think this was to be expected due to the cold weather. The spring butterflies continue to be seen with more Peacocks on the wing towards the end of the month. Dragon Flies were just appearing in the last week of May and seeing their aerobatic flight is something to look forward to across the summer.
Most of our riparian plants show only a promise of flowers to come, but the heady smell of mint immediately pervades the atmosphere if you tread in the margins. Cuckoo Flowers and Garlic Mustard have been out, together with the vibrant yellow of Tormentil and Birds Foot Trefoil.
That reminds me. I was fishing the other day with an old school friend Ed Case, who on leaving school qualified as a Psychiatrist. Ed reminded me of the rather sad story he was told by a fellow Doctor, of a lady who through personal circumstances decided to give up her twin boys to an international adoption agency. One went to Egypt and was named Ahmal and the other to a family in Spain who named the other twin Juan. Years later Juan sent his natural Mother a photo of himself. When she received the picture, she said to her husband that she would love to have a picture of Ahmal as well. Her husband replied "They're twins! When you've seen Juan, you've seen Ahmal!"
That's all folks!
I look forward to seeing you on the bank.
Tight lines,
Lucius Pike
Trout Fishing Update – End June 2021
Well, without doubt the seasons are a couple of weeks later than normal this year. There were still Mayflies hatching and Spinners performing their ritual dance at the South West corner of the lake on the last day of June, and beyond. Summer visitors of the avian variety arrived generally later than normal and the nesting cycle of resident birds has also been significantly delayed. Unusually the Cuckoo was still making its full evocative call at the end of the month. June has followed the pattern of April and May in being fairly cool, with only one significant warm spell in the second week. There was a reasonable amount of rain (and hail) during the month and there is plenty of water in the lake with clarity being extremely good. Weed cuts continue as needed. The main body of the lake will normally only be cut on a Tuesday, with an e-mail being sent if this changes. The western half of the lake may be cut on other days.
Dry Sedges have been the most successful flies in June with large hatches occurring, particularly in the evening as you would expect, with Buzzers of various colours following close behind. Plenty of fish have been taken on other dry flies including Hoppers, Daddies and Grey Dusters. Mayfly patterns, in particular Grey Wulffs are still taking fish, with the naturals continuing to show. Damsels are about in their thousands now and a few fish have been taken on dry Damsel patterns as well as Nymphs.
Sub surface, Hares Ear, and Green/Black Nymphs have taken their fair share of fish along with Wet Daddies, Montanas, Diawl Bachs and Pitsford Peas. A couple of 4lb+ Browns have been caught and the larger Rainbows continue to show well. The fishing has continued to be generally good In June, but slowed down significantly in the warm spell at the beginning of the month.
Housekeeping Points:
 Please do not tie knots in the anchor ropes. If you feel an uncontrollable urge to do so, please untie them before leaving the boat!
 If you bring your Dog, please make sure you clean up after it. There have been "landmines" close to the lodge which is totally unacceptable.
 This year much less leader material has been left in the boats which is appreciated. However, the number of flies left behind thankfully continues to be high, saving me pounds at the tackle shop!
 I found an Airflo 5/6 reel on one of the seats. If this is yours please let me know and I will bring it down to the lodge prior to your next visit.
Most of our bankside plants are yet to come into flower but there are some patches of Self-Heal along with Birds Foot Trefoil, and Tormentil around the meadow. The first spike of Purple Loosestrife just made it to flower by the end of the month. On the roadway down to the lake however, you can see White Campion, Field Scabious, Common Mallow, Ox-Eye Daisy, Ladies Bedstraw and some magnificent Knapweeds which the Bees love! Also, There is a small colony of Bee Orchids which are quite an unusual sight.
As well as the myriad of Damsel Flies, a good number of Dragonflies were on the wing including Black Tailed Skimmers, Common Darters, Broad Bodied Chasers, Four Spotted Chasers and towards the end of the month Southern Hawkers. Noting their aggression, and ability to snap up anything they encounter, I'm glad they are not a lot bigger! We are indeed fortunate that a Kingfisher is seen most days and to add another flash of colour Green Woodpeckers abound. No Grebe chicks as yet, but I am still hopeful in view of the late season.
That reminds me. I was fishing the other day with a Doctor pal of mine Izzie Alright, who is also a keen sailor. She recently attended an incident where a coastal freighter carrying blue paint collided with a container ship with a cargo of red paint. Fortunately there were no serious injuries, but the crews were marooned for some time!
That's all folks!
I look forward to seeing you on the bank.
Tight lines,
Lucius Pike
Trout Fishing Update – July and August 2021
July and August are always the quietest months for our fishery regardless of the weather. I don't think anyone would argue that it's been a poor summer this year up to now, with cool overcast conditions prevailing as we've come to expect with a north easterly airstream. The exception was a very warm few days in middle of July with maximum temperatures reaching around 28c. The first half of July fished reasonably well, with Browns continuing to show, but from mid-July right through to the end of August there was not much action, with the Trout showing themselves but becoming rather sulky and reluctant to feed. We prefer to stay open rather than close as many fisheries do across the summer months, to enable members to take on the challenge of difficult conditions if they wish to, and even if unsuccessful, still have the opportunity to enjoy the beauty, peace and tranquility of the Lake and its surroundings.
The main Dries that took fish across both months were Olives, Hoppers, Daddies, Sedges and Black Gnats. The most successful sub surface flies were Buzzers, Damsel Nymphs, Pheasant Tail Nymphs and Black Spiders. Unsuccessful patterns included "Everything", "The Whole Box", "All I had", "Lots" and "Many".
As previously advised, the Environment Agency were granted access to the lake at the end of August in order to repair the riverside footpath and thankfully disruption was kept to a minimum as promised. There was also another weed cut at the end of August in preparation for our first autumn stocking on 2nd September, with the water temperature thankfully being relatively cool.
It seems to have been a successful breeding season for the birds with four Green Woodpeckers being seen together as a family group. There have been Moorhen, Mallard and Grey Lag young in some numbers, as well as a brood of Jackdaws from the Lodge roof! Sadly our Great Crested Grebes have again failed to breed. A Great White Egret has been seen as well as Hobbies, Grey Wagtails and our regular Kingfishers. It has been a joy to see Common Terns perching regularly on the new jetty, they clearly recognise quality when they see it.
The banks of the lake have certainly taken on a purple hue with Purple Loosestrife, Water Mint and Great Willow Herb all complementing each other. The yellow daisy like Fleabanes make a lovely contrast and Nodding Burr Marigolds are an interesting sight as their flowers have few, if any petals.
I have twice seen a Roe Deer fawn as I have driven down to the lake, as yet not really afraid of humans. Roes are very much new colonists to the area. I was somewhat disconcerted the other day walking along the bank, when a large Dragon Fly kept flying close to me and then returning for what seemed like a close inspection. I identified it as a male Southern Hawker, who apparently are known to take a close look at anything entering their territory, whatever the size – you learn something every day!
That reminds me. I was fishing the other day with a Publican friend of mine Heidi Vodka. She told me the tale of a man who came into her pub with a Newt sitting on his shoulder. He said 'I'll have a pint of Bitter and a glass of Orange Juice for Tiny here'. 'Why is he called Tiny' Heidi asked. The man replied, 'because he's my Newt'!
That's all folks!
I look forward to seeing you on the bank.
Tight lines,
Lucius Pike
Trout Fishing Update – September and October
It hardly seems possible that we are at the end of another season at Roxton Park, thankfully with minimal disruption from Covid 19. That's the last time I'll mention it in this update, but at least it's on a positive note!
Water temperatures were cool enough for our stockings to go ahead as planned on the 2nd and 16th September, with a total of 1780 fish being stocked during the season. The fish settled in well, although there were 3 or 4 very warm days in the second week, followed by some decent late summer weather persisting until the end of the third week. The weather then broke into a typical autumnal pattern for the remainder of September and October, breezy days often with heavy showers and some longer periods of rain.
The weed was cut and cleared again in early September and the fishing was generally good throughout the month, with a high proportion of fish being taken on Dries, in particular Daddies, Hoppers and Sedges, including plenty of 3lb+ fish. Sub surface, Buzzers, Pitsford Peas, Pheasant Tail and Hares Ear Nymphs plus Diawl Bachs took plenty of fish. Regrettably Cormorants were seen to take Trout as well as some damaged fish being caught. Thank you for recording these events on the return cards as this information is used in support of our License application, that enables us to keep these piscivorous pests under reasonable control.
Sport in October was patchy, rather like the weather, some days good, some not so good. With plenty of fish present they proved a little moody and some had shoaled up as they always do approaching winter, in particular around the bottom island. Quite a few Trout could be seen chasing fry and traditional fry patterns took several fish. Successful lures included Montana, Fritz and Cats Whisker. Spider, Damsel and Buzzer patterns were also well used with Dry Daddies taking fish right up to close of play. Generally the second half of October was quite difficult. As usual we will be cutting back the "Willow Scrub" around the banks in the closed season to protect the quality of our bank fishing.
Undoubtedly the wildlife highlight was the Lake being graced with the presence of an Osprey from 9th to 16th October. It frequently perched on top of the pylon and several trees around the lake. It was seen to dive for fish on many occasions including a few times very close to people fishing in boats. It's success rate however was not very good and I very much hope it was able to take enough fuel on board to complete it's onward journey to West Africa. From it's ring I have determined that it was a Scottish bird (not Rutland as one might have expected), fledged after 2012. Further details should be available shortly. Having commented on Roe Deer previously we now have a couple of Chinese Water Deer about the place, which are well worth looking out for.
As usual Pike fishing is available to members over the winter. All legal methods may be used but to protect our overwintering Trout, please do not use small lures or spinners. Any Trout caught should be returned, if they are likely to survive. The lake will be closed every Tuesday as normal. The last day for Pike Fishing is Monday 14th March.
That reminds me, I was fishing the other day with a Physics Teacher pal of mine, Molly Kule. Molly related the story of one of her pupils who sent ten different puns to a schoolfriend who was rather fed up, hoping that at least one of the puns would make him laugh. Unfortunately, no pun in ten did!
That's all folks! I look forward to seeing you on the bank.
Tight lines,
Lucius Pike